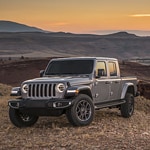 The 2020 Jeep Gladiator is a remarkable automobile, and it will fit any kind of lifestyle. This compact SUV is very popular among people of all ages. Some of the latest in tech advancements can be found inside of this vehicle, and its exterior is quite easy on the eyes.
Since the 2020 Jeep Compass will come in different trim levels, the interior's upholstery will vary per model. These high-quality materials will come in premium vinyl, fine cloth, or leather. There's also gorgeous accent stitching that snakes its way along the material's edges. The new Compass has also been thoughtfully crafted as consumers can expect an easy-load cargo floor as well as a power liftgate. You will receive at least 27.2 cubic feet behind the rear seats. There's also Alpine audio, which produces an enriched listening experience.
Head over to our dealership to get a free test drive before it's too late.